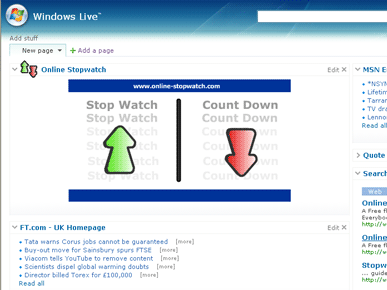 Like This? Let Us Know! :-)
www.online-stopwatch.com has made our easy to use online stopwatch and countdown timer into a "Live.com Gadget".
Live Gadgets work with the personal Live.com hompages, and with your Live Space webpage.
Installing the Online Stopwatch Google Gadget will add the same flash stopwatch and countdown timer that you can use here, onto your personal Live Spaces homepage, or to your Live.com
So now you don't even have to type www.online-stopwatch into your browser. You have a stopwatch and countdown timer whenever you need it

-- But remember, we'll still be here if you need to use the watch full screen, or away from your own PC.



You may have to be a member of "https://gallery.live.com" to download from the buttons above, if you click "Add Stuff" > "Advanced Options" > then "Add a gadget by URL" enter the following:


This will work just as well. :-)