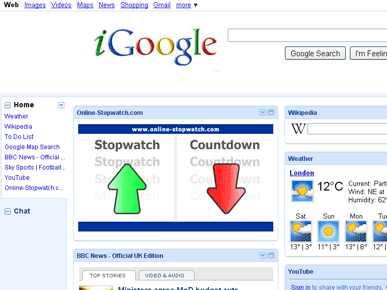 Like This? Let Us Know! :-)
New - an improved and updated "iGoogle Gadget Stopwatch and Countdown Timer!
iGoogle lets you create the homepage you want! Add cool little gadgets to you page, move them around, customise them. Your page your rules :-)
Our Stopwatch and Countdown iGoogle gadget looks and works just like our website version – but we have also listened to our iGoogle users and included some of the features they wanted...
If you leave your homepage – the gadget continues to count down (or up!). This means you can carry on doing other things, and check back on your timer when you go back to your iGoogle page.


You can set how long the bell rings for! Don't want it to ring at all? Set it to silent! Want to really annoy your workmates and maybe get fired? Set it to "Ring until stopped" :-)


Click the Maximize button to use the stopwatch or countdown full screen on your own homepage – it also continues running switching between full screen and standard view.


A nice link back to online-stopwatch.com so you can continue to use our other great timers.

-- We hope you like our new and improved iGoogle Stopwatch and Countdown Gadget!